Visionary Design Professionals
in the Wasatch Front
Pendleton Landscape specializes in the design and maintenance of high-end landscapes. Trust our landscape design professionals to create majestic, beautifully breathtaking landscapes for your luxury estate.
Pendleton Design Professionals: Bringing the Landscape of Your Dreams to Life
Pendleton Landscape turns the yard or garden of your dreams into a reality. Every Pendleton design is distinct. We are one of the most reputable landscaping contractors in the Wasatch Front including Draper, Holladay, and Park City, so you can trust us to create a pristine, detailed design that is unique to your high-end property.
Superior Landscaping Design Services
and Landscape Installation
Pendleton Landscape is the choice of discerning homeowners who want high-quality residential landscaping design and installation. Our thoughtfully designed and meticulously installed landscapes lend a warm, wonderful ambiance to your outdoor space.
When designing high-end landscapes, Pendleton Landscape focuses on the details. From a romantic gazebo to subtle downlights into a glowing pool, we know which details will add the right dimension, sophistication and visual interest to your yard.
However unconventional your ideal landscape may be, Pendleton Landscape can bring it to life. We handle any type of installation, from softscapes and hardscapes to the addition of water features, rock gardens or perennial blooms.
We are a full service Landscaping Company
Our goal is to improve the quality of people's lives by creating beautiful landscapes. We give you a stunning yard that brings you peace, enjoyment and comfort.
Why Work with Pendleton Landscape?
When it comes to stunning high-end landscapes, Pendleton Landscape is the first company that comes to the minds of Park City residents. We meticulously handle every stage of your landscaping project. Through the years, locals and those from nearby areas have come to associate Pendleton Landscape with outstanding designs and impeccable workmanship.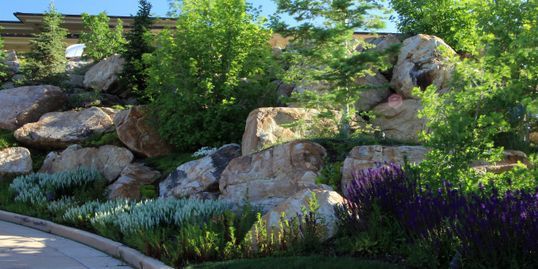 We Care About the Details
Pendleton Landscape's team of visionary artists and hardworking engineers knows that when it comes to high-end landscape design, details are everything. Our attention to detail allows us to design and install beautiful landscapes that boost your property values. We turn your back yard into a stunning, functional space that your family and friends can enjoy all year long.
innovative design professionals