Stunning Landscape Designs for Homes In the Wasatch Front
Maybe you're concerned because your back yard doesn't match your home's aesthetics. Or perhaps you want to turn your outdoor space into an area for entertainment and relaxation.
Regardless of your reason for wanting to improve the look of your yard, landscaping is always a great way to add value your property.
Pendleton Landscape provides landscape installation services that increase property value, aesthetics, and functionality. You can count on us to come up with a unique, detailed landscape design your neighbors will love – and envy.
We handle landscape planning and architecture for both your front yard and back yard and have happy property owners all over the Wasatch Front, including Draper, Holladay and Park City.
Lush landscapes set the scene for a warm and inviting home. Pendleton Landscape can turn the front yard of your expansive estate into a French-style garden, complete with period fountains and perfectly manicured shrubs. For smaller properties, we can roll out a blooming welcome mat for your front yard with flowering shrubs, perennials, annuals and color-rich trees.
Turn your front yard into a storybook garden featuring softscaping or a calming respite made modern with hardscaping with help from the Pendleton team.
On average, Utah sees about 229 sunny days. Step outside and immerse yourself in the warm weather with a custom pergola that offers shade. With vines and climbing flowers, you can give your pergola a romantic feel.
In the cold months, gather with friends and family around the warmth of an outdoor fireplace. More than creating visual interest, custom fire pits are a great way to bring the indoor luxuries outside. When you have great company, a fire pit extends the day, night and even the season.
Pendleton Landscape is composed of a team of visionaries. With our knowledge and experience in landscape architecture, you can count on us to transform plain back yards into stunning spaces that remain functional in any weather.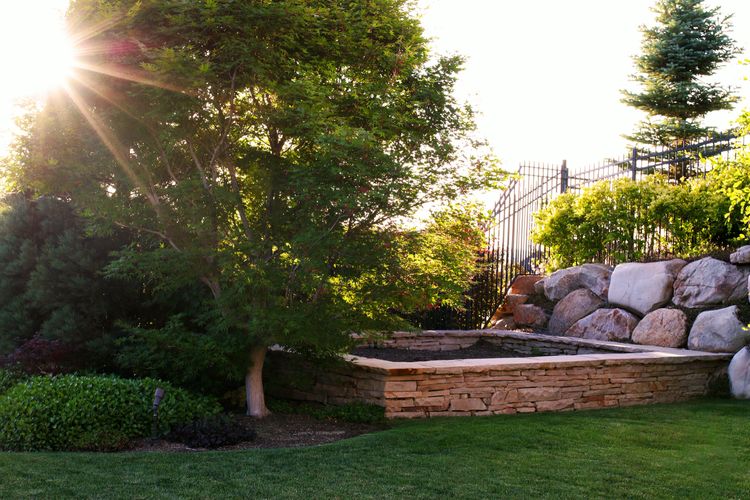 How do you envision your new landscape? Do you want to turn your yard into a Zen garden? Would you like a romantic space surrounded by flowers in full bloom? However you imagine your landscape to look like and whatever your landscape design plans, Pendleton Landscape can make it happen.
If you have yet to decide on what you want your dream landscape to look like, allow us to help you. Browse our gallery to find landscape design ideas or reach out to our team for recommendations.
Partner with Pendleton Landscape for your high-end landscaping project! For your questions, please call us at (801) 518-6228 or send an email to office@pendletonlandscape.com today.